Recently returned home from our first extended trip, ten nights at five different Michigan state parks. Overall, a great trip – good weather, very nice facilities, and virtually no issues with our new T@B. Our camping mode is generally not spending much daylight time at the campsite, rather using it as a base to explore surrounding areas. I will say that we were very impressed with the quality of all of the park campgrounds we visited.
Our first day we drove six hours to Sleepy Hollow S.P., a little northwest of Lansing. This was just a sleepover stop, and we didn't bother unhooking. It was a Sunday night, and very few sites were occupied.
Monday we drove to Wilderness S.P., just west of Mackinaw City. We stayed two nights on a fabulous site that backed up to Lake Michigan.
We checked out Mackinaw City Monday and spent Tuesday on ferry rides and visiting Mackinac Island. Very cool place – no motor vehicles allowed, just bicycles and horses!
On Wednesday we drove south along the west coast of Michigan to Petosky S.P. Another great wooded campsite about a two-minute walk from a very interesting rocky/sandy beach. Hardly anyone else there when we arrived, so we were surprised to see another T@B across from us when we returned from a trip into town. I had no sooner finished a brief chat with the owner (Dave from Michigan?) than another T@B (couple from Minnesota) pulled in a few sites away. Had to get a picture:
Our next-door neighbors asked us if there was a convention going on!
We drove to Traverse City on Friday for two nights in the Traverse City S.P. campground. It was packed, due at least in part to the 90-degree weather. Spent our time visiting Sleeping Bear Dunes National Lakeshore and lots of wineries.
Finished out the trip with a one-night stay at Ludington S.P. (fantastic beach) and two nights at Holland S.P. We loved our stay at Holland. Had a great, large, heavily-wooded site (see pic below) and virtually no one else nearby.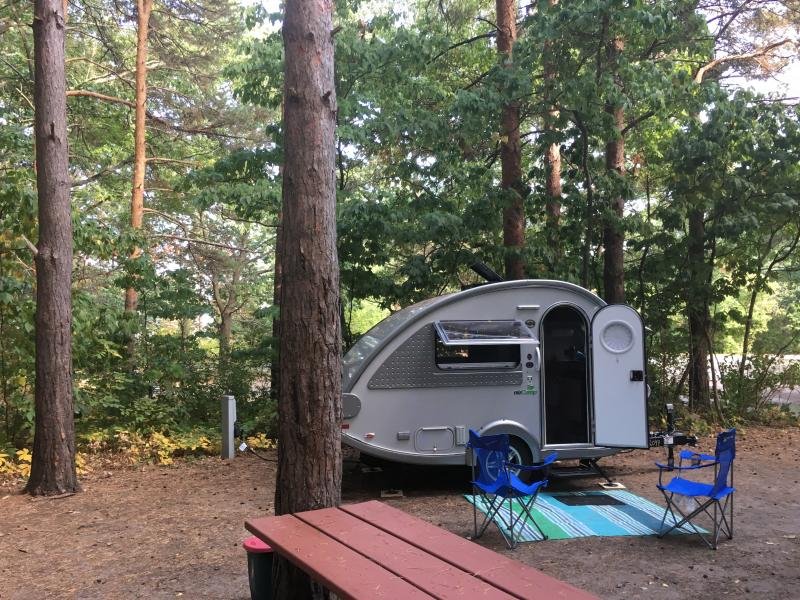 We learned a few lessons on the trip: (i) If using heat, you need to be mindful of not covering vents when the bed is made up; (ii) we switched the Norcold to battery when traveling and it didn't seem to keep things cold – usually had water on the bottom of the fridge after arriving; (iii) gas mileage plummets during long periods over 65 mph; (iv) (AND MOST IMPORTANT) we love our T@B and camping in it! Thinking about where we might go for another trip before winter.